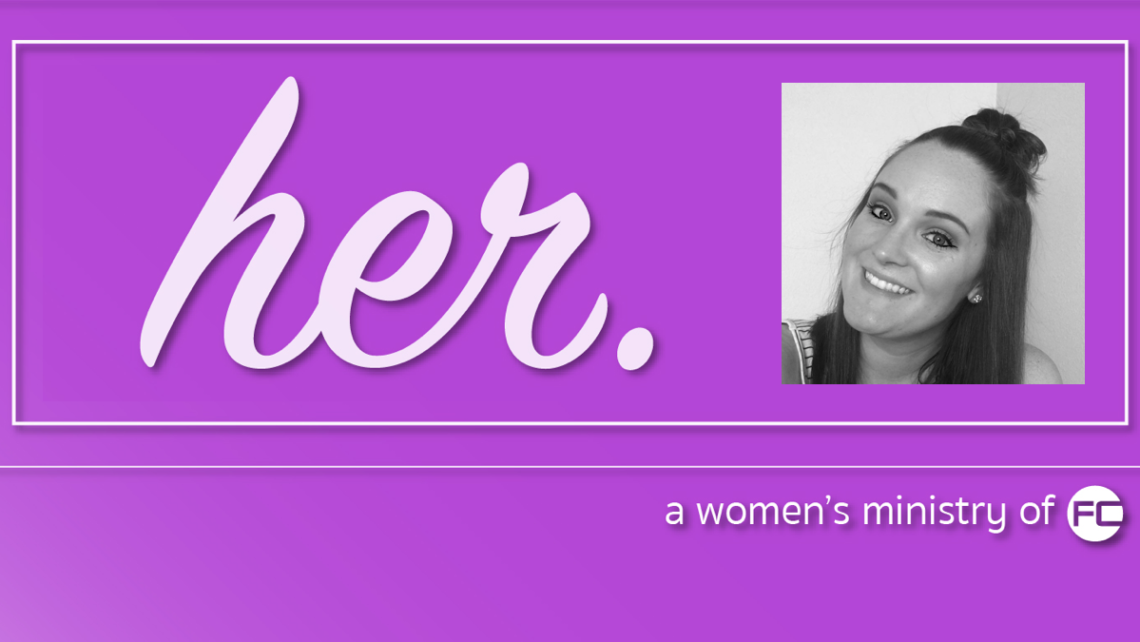 Hello, ladies of Fellowship Church! Or those who have stumbled upon this blog. Grandest WELCOME to the launch of our new women's ministry, "HER".
Let me take a moment to introduce myself.
My name is Katlyn Evanko. I am a wife of almost 7 years, and a young mom who had 4 kids in 5 years. Yes, you read that right.
When I was first asked to oversee this blog, I already knew what my answer was.
YES!
God has been preparing me for this for some time.
Ladies, I say this from the heart. We need each other. We need discipleship. We need encouragement. We need to be held accountable. We need to be teachable. We need more of Jesus, always, myself included. It's easy to say all of those things, but maybe it's time we actually start pursuing those things!
I'm a huge fan and believer of the young learning from those "more mature", and the "more mature" learning from the young. God created each of us to bring something to the table. We need to be willing to mentor each other and to expand beyond our "circle" of friends and, more importantly, our circle of comfort.
We want to connect with you.
Yes, you. I'm talking to the working moms who are tired. The retired women. The stay at home moms who are lonely. The widows who are mourning. The woman who wants to be a mom more than anything, but struggles with infertility. The non-believer. The "on the fence" believer. The women who struggle with confidence. The women who have health issues. The women who are drowning financially. The women who suffer from depression and anxiety. The woman who struggles with pornography. The women who have been beaten, abused, and abandoned. The teachers. The women in ministry. The college aged girls.
See, friends? We are all different.
But we all have one thing in common. We were all created by the same Father. The Father who loves us so much, when we can't even bear to love ourselves.
He so desperately wants every single part of us. I believe he also wants us to connect with other women. So many amazing and miraculous outcomes can be had when we share our struggles, share our victories and testimonies, and form relationships with one another.
Let's all learn to love Jesus better and fuller, together. Can we do that?
I hope your answer is yes. Because that is what we envision for this blog and ministry.
We will have a team of ladies share some amazing words on this blog. You'll be hearing from plenty more than just me. Our writers will include Haley Lambert, Carrie Johnson, Ladina Dougherty, Petra Alvarez, Bridgette Bratland, Erin Rodriguez, and Stacy Cardoza.
We have topics coming your way focused on deeper discipleship, parenting in all aspects, marriage/divorce, and much, much more!
Let us minister to you. Trust us that we are prayerfully seeking and listening to the Spirit as to what the words of this blog should be, so that we can encourage you. We will put in our all, and do our best. That is my promise to you.
If you are interested in taking the next step into deeper discipleship with one another, please comment on our blog, our Facebook page, our video, or visit us on our website at fconline.tv and someone will contact you.
That is all for now. Thank you for taking the time to read this and hear from my heart. I am so ready and looking forward to watching Jesus move in our hearts through this blog, and our ministry.
Blessings,
Katlyn
"Do not let your adorning be external—the braiding of hair and the putting on of gold jewelry, or the clothing you wear— but let your adorning be the hidden person of the heart with the imperishable beauty of a gentle and quiet spirit, which in God's sight is very precious."
1 Peter 3:3-4 ESV