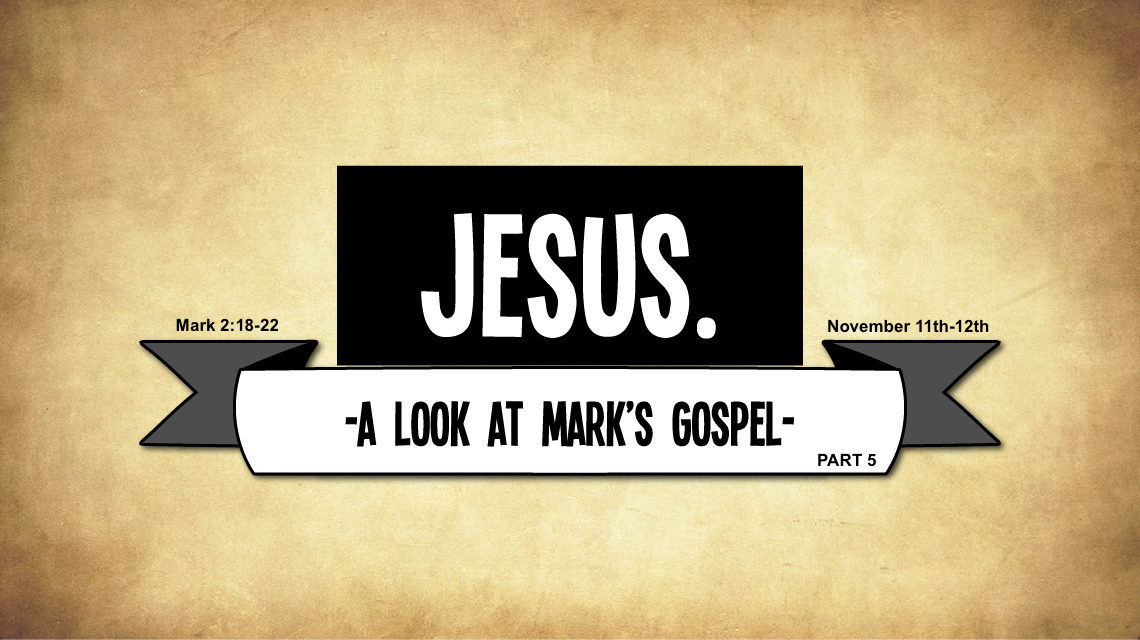 Mark 2:18-22
Now John's disciples and the Pharisees were fasting. And people came and said to him, "Why do John's disciples and the disciples of the Pharisees fast, but your disciples do not fast?" And Jesus said to them, "Can the wedding guests fast while the bridegroom is with them? As long as they have the bridegroom with them, they cannot fast. The days will come when the bridegroom is taken away from them, and then they will fast in that day. No one sews a piece of unshrunk cloth on an old garment. If he does, the patch tears away from it, the new from the old, and a worse tear is made. And no one puts new wine into old wineskins. If he does, the wine will burst the skins—and the wine is destroyed, and so are the skins. But new wine is for fresh wineskins."
Matthew 6:16-18
"And when you fast, do not look gloomy like the hypocrites, for they disfigure their faces that their fasting may be seen by others. Truly, I say to you, they have received their reward. But when you fast, anoint your head and wash your face, that your fasting may not be seen by others but by your Father who is in secret. And your Father who sees in secret will reward you.
Romans 6:15-18
What then? Are we to sin because we are not under law but under grace? By no means! Do you not know that if you present yourselves to anyone as obedient slaves, you are slaves of the one whom you obey, either of sin, which leads to death, or of obedience, which leads to righteousness? But thanks be to God, that you who were once slaves of sin have become obedient from the heart to the standard of teaching to which you were committed, and, having been set free from sin, have become slaves of righteousness.
Colossians 3:8-10
But now you must put them all away: anger, wrath, malice, slander, and obscene talk from your mouth. Do not lie to one another, seeing that you have put off the old self with its practices and have put on the new self, which is being renewed in knowledge after the image of its creator.
SMALL GROUP QUESTIONS
Read Romans 6:5-14 or Ephesians 4:17-32
Romans 6:5-14
For if we have been united with him in a death like his, we shall certainly be united with him in a resurrection like his. We know that our old self was crucified with him in order that the body of sin might be brought to nothing, so that we would no longer be enslaved to sin. For one who has died has been set free from sin. Now if we have died with Christ, we believe that we will also live with him. We know that Christ, being raised from the dead, will never die again; death no longer has dominion over him. For the death he died he died to sin, once for all, but the life he lives he lives to God. So you also must consider yourselves dead to sin and alive to God in Christ Jesus. Let not sin therefore reign in your mortal body, to make you obey its passions. Do not present your members to sin as instruments for unrighteousness, but present yourselves to God as those who have been brought from death to life, and your members to God as instruments for righteousness. For sin will have no dominion over you, since you are not under law but under grace.
Ephesians 4:17-32
Now this I say and testify in the Lord, that you must no longer walk as the Gentiles do, in the futility of their minds. They are darkened in their understanding, alienated from the life of God because of the ignorance that is in them, due to their hardness of heart. They have become callous and have given themselves up to sensuality, greedy to practice every kind of impurity. But that is not the way you learned Christ!— assuming that you have heard about him and were taught in him, as the truth is in Jesus, to put off your old self, which belongs to your former manner of life and is corrupt through deceitful desires, and to be renewed in the spirit of your minds, and to put on the new self, created after the likeness of God in true righteousness and holiness. Therefore, having put away falsehood, let each one of you speak the truth with his neighbor, for we are members one of another. Be angry and do not sin; do not let the sun go down on your anger, and give no opportunity to the devil. Let the thief no longer steal, but rather let him labor, doing honest work with his own hands, so that he may have something to share with anyone in need. Let no corrupting talk come out of your mouths, but only such as is good for building up, as fits the occasion, that it may give grace to those who hear. And do not grieve the Holy Spirit of God, by whom you were sealed for the day of redemption. Let all bitterness and wrath and anger and clamor and slander be put away from you, along with all malice. Be kind to one another, tenderhearted, forgiving one another, as God in Christ forgave you.
Paul shared with his readers to live a new life, and he listed things to do in order to do so. Which of these things speaks to you?
What are some steps that will help you live in this new life?